Equipment
Landrover Defender 300 TDI
"Stretched" version with space for max. 7 people plus the driver. For the most convenient driving 4 guests can sit in our 4x4 Land Rover, with ample space, pillows, fridge for drinks, fruit and snacks on the go, as well as air conditioning.
Trailer for Luggage and Equipment
With this compact off-road trailer, we have everything with you that you will need: a large National Luna Freezer / cooler combination, gas stove, complete kitchen box, grill accessories, accommodate mattresses, tables, chairs, couches, solar module and large batteries and European 220 volt outlets, water, gasoline and diesel. On top we install a roof tent or a roof box with plenty of room for 2 people.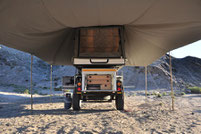 Solar Panel
During long periods 3 solar panels ensure that our batteries are always full and all consumers are well cared for.
Satellite Telephone
The Inmarsat IsatPhone Pro is optimized to provide the best performance at the world's most advanced mobile satellite network. The IsatPhone Pro is almost globally available on the basis of the three Inmarsat-4 satellites. The satellites have an expected lifetime up to about 2020.
Catering at the Camps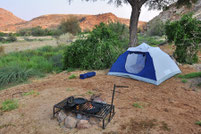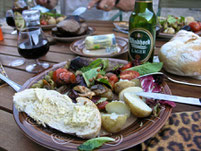 In our camps, nothing is missing. Instant soup, white bread toast and sliced cheese will not be found in our catering. For our camping trips we choose -as far as possible- fresh food, such as fillet steak from beef or venison, seafood, salad, vegetables, fruits and juices, red or white wine (chilled of course), beer, water, gin / tonic (with ice and lemon!) as desired.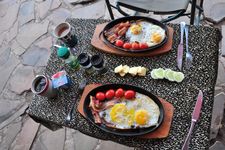 Roof Tent Overcamp
Robust quality roof tent with the advantage that the tent is folded longitudinally and thus you do not have to sleep on a gap in the mattress.
Roof Box
Camping in another way! Comfortable place to sleep in the roof box with interior lighting, sturdy canvas walls and mosquito net.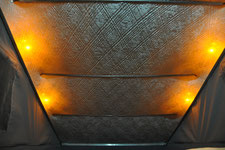 Canvas Roofing
The large canvas tent around the trailer has enough space and protection against sun and possible rain. Everything is sheltered and conveniently accessed.