NEWS!
Current Information Overview
Paragliding Trip in Namibia 2014
15 Days New Year's Round Trip Through Namibia 2013/2014
18.06.13
At the meeting of Land Rover friends in the town Oldendorf we also stopped by briefly. Again, there were, like almost everywhere in Germany in recent times, a lot of water and difficult passages to go through.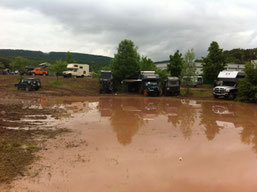 10.06.13
The four-wheel drive show in Bad Kissingen was well attended despite the cold and unpleasant weather. At least the all-wheel driver at the campsite had their fun - although there were some drivers who could not manage to get through from one corner to another without getting stuck in the mud ... :-)
07.06.13
Today we post a very good video about driving on gravel roads in Namibia. We find it really made great and we can confirm the statement of the video to 100%. Dear Namibia vacationer, take it to heart, and ride slowly and carefully! Or let us guide you.... :)