Discover Namibia!
Travels Through Southern Africa
Namibia Travels - Namibia tours - Guided, individual and customized in order to meet your personal requirements
Magic Vibes Tours and Services cc
is one of many companys who specialize in guided tours exploring southern Africa.
So why should you choose us and our travels?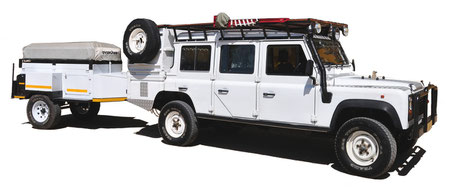 We offer exclusive but affordable travels: With us, there is no "coach tourism" – we guide 1 to 4 guests through the country, but also larger groups are possible. In contrast to other tourism vendors, the value of this exclusivity does hardly affect the trip price.
Just travel the way you want it: Whether you are travelling in our Land Rover or want to start off self-driven in an all-terrain vehicle, on a motorcycle, bicycle or by foot - our service and backup vehicle keeps always close to you and guides you safely to your destination.
Insight to human knowledge: We offer 30 years of experience in catering and therefore are able to deal very well with different kind of people. This is a great advantage especially for smaller groups because it makes up the difference between a holiday which might be a great and never-to-be-forgotten adventure only for a few group members or for all travellers.
Personal and individual care: We create a harmonious and relaxing atmosphere with kindness, attention, and respect for our guests and the local people.
Professionalism and service: It is our aim to satisfy each guest to 100 percent, therefore, we do our best to meet your requirements as far as possible.
Experience as Tour Guides: We live in Namibia for over 10 years and provide 6 years of experience as tour guides for motorcycle and SUV drivers with small and large groups, with only positive feedback.
Safety - "MacGyver" is always at hand: Volker has a "golden talent" for any technical problem, and in almost every situation, he has solution on hand. In case of breakdowns, which might easily occur, it is important to be able to help yourself - especially in such a sparsely populated country like Namibia. Moreover, Volker has 10 years of experience in emergency service, and, of course, both of us have a current and comprehensive first aid training.